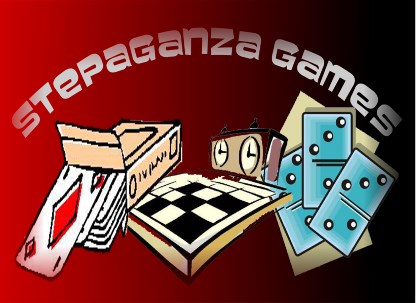 Announcing: STEPAGANZA: THE GAMES

Want to have even more fun at Stepaganza, captain a team to Compete and Win the STEPAGANZA Games
What is it? Fun team games for points. Friendly competition between teams for in-door games like: Dominos, Bid Whist, Spades, Taboo and Chess. And outdoor games like: Basketball (free throws), relay races, running, hula hoop, jump rope, and more.
When: Friday afternoon, May 22 – In-Door Games at Host Hotel
Saturday afternoon, May 23 Out-Door Games in the Park
A captain will recruit and lead their team: The more team members and games you compete in the more points toward winning the GAMES. Captains will commit to organize and lead a team. The captain will let their team members know what games they will be competing in. Players can compete in multiple events. For example 1: a player could play a round of Bid Whist and then play a round of a different in-door or outdoor game. Example 2: Teams can have more than one Domino player. Player A could play round 1, Player B play round 2 and Player 3 play round 3. There is no restriction on when a player plays, the number games they play or what event they play in. Only one player or team per round of a game (cannot have 2 teams or players play in the same game). All in the name of friendly, fun PLAY.
An example of a team could be players from your state: MO, MI, IL, CA, GA, FL, TX, OH, or a group of dance friends from all over. Submit your name to be one of 8 Team Captains.
Respond ASAP (no later than 3/30/15). To: debeileen.rhodes@yahoo.comThe Games are being developed and coordinated by Debbie Rhodes (Cleveland) and April Burns (Cincinnati)
STEPAGANZA: THE GAMES
Categories: None